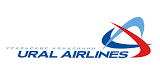 Ural Airlines (5 pictures & videos)
9/10
serpent
Russian Federation (DME) to Russian Federation (KGD), 26 Jun 2017
Economy Class
Snack , Special meal: no
I had heard that you get "just tea" on this flight. It was a pleasant surprise to get juice and a dessert as well! Apparently these "merendinka" (meringue) sponge cakes are well-known in the Ural region, but as someone from Moscow I hadn't seen or tasted them before. They're very sweet with a cream filling. Made in Chelyabinsk.
water, tea/coffee, juice (orange/tomato/apple)
great snack
Date added: 2017-07-11 // Flight #u6 167 // Flight: 2:0 // Aircraft: a321 // Ticket price: 5750.00
Other: Huge delay :( This specific flight is routinely delayed - be sure to check the stats before booking with Ural airlines.