Turkish Airlines (1025 pictures & videos)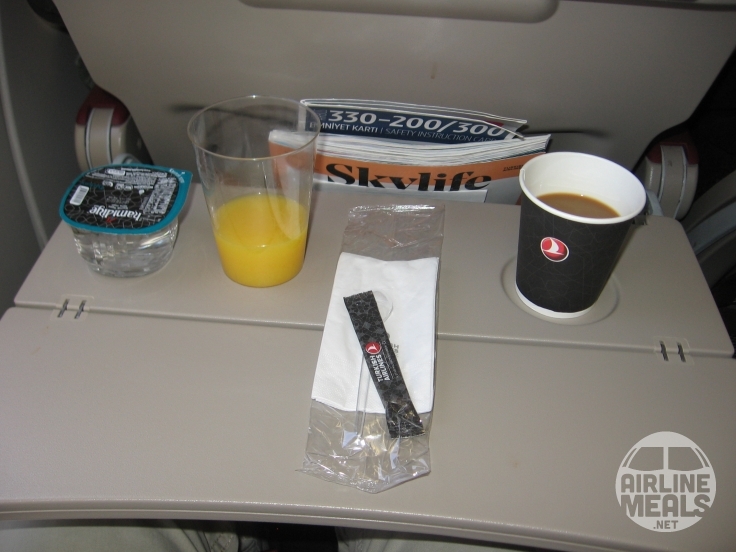 10/10
Slawa (Wjatscheslaw)
Russian Federation (VKO) to Turkey (IST), 31 May 2017
Economy Class
Lunch , Special meal: no
Choice of hot meals 2 courses: 1) 2 beef kebab with rice and steamed vegetables. 2) Pasta with vegetables. Snacks: cabbage Salad, a slice of fresh tomato and ring cucumber. Bun, packing of butter, a bag of olive oil with lemon juice as salad dressing. Dessert: coffee mousse.
Soft drinks: juices (Apple, tomato, orange), real lemonade, ayran, Coca Cola, drinkable water. A plastic Cup of Turkish mineral water (lunch-box). Alcoholic drink: white wine, red wine ( Cabernet Sauvignon Turkish origin), beer "Efes", the vodka and it seemed more whiskey and cognac. Hot drinks: Coffee black, or with milk, tea. The lemon is not suggested.
Very decent food for such a flight duration. The Turks on this route out of competition for service parts. Metal utensils, plentiful and very tasty diet. A rich selection of alcoholic and non-alcoholic beverages. I especially like their mousse as a dessert. Only for them they can fly )) I noticed on short flights offer Turkish wine production, and long flights already more expensive imported (French).
Date added: 2017-08-07 // Flight #TK 414 // Flight: 2:30 // Aircraft: A-330-203 TC-JIL "Yedigoller" // Ticket price: 27875.00
Equipment: Equipment: The perfect combination of quality equipment and the high level of services provided.