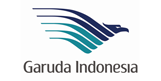 Garuda Indonesia (584 pictures & videos)
7/10
Rubi Haliman
Indonesia (CGK) to Indonesia (MES), 11 Sep 2017
Economy Class
Breakfast , Special meal: no
Breakfast service of fried rice with beef rendang and sauted vegetable. Dessert was pre-packed pudding. The other option was noodle with fish.
Tea, water
Delicious
Date added: 2017-09-12 // Flight #GA 184 // Flight: 2:0 // Aircraft: B 737-800
Equipment: Personal IFE in each seat, metal cutlery was used in Garuda flight even in donestic. Good service at Garuda as usual. // Other: Beef rendang was delicious, full of taste yet not rubbery and also juicy.