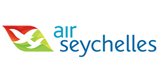 Air Seychelles (15 pictures & videos)
5/10
Severin Hackenberger
Seychelles (SEZ) to South Africa (JNB), 28 Oct 2017
Economy Class
Breakfast , Special meal: no
I chose the waffle with caramelised banana and not the omlette. The waffle was tasty, but I tried the omlette from my dad - it was not yummy. Fruitsalad was tasty, too.
HM offered juices, water and coffe/tea
something different to normal meals
Date added: 2017-12-03 // Flight #HM61 // Flight: 4:50 // Aircraft: Airbus A320-200
Equipment: Tablet (on which meal was served) was too small. Cutlery was quite old and used a lot. // Other: The meal was served in a friendly way and at the right timepoint.